The scent
of the vine flower at night:
GESCHEIN.
Every spring – just for a few hours – the fleeting scent of vine flowers flows through the night air. GESCHEIN is a nocturne, a rhyme that captures the magic of this charming flower at a silvery full moon night.
Visitors to this romantic scene of blue light and dark forest are so enchanted by the fleeting scent of white glowing vine flowers that reality dissipates like an intoxicating summer night.
Nature sends a love letter to the senses of those who use or smell GESCHEIN.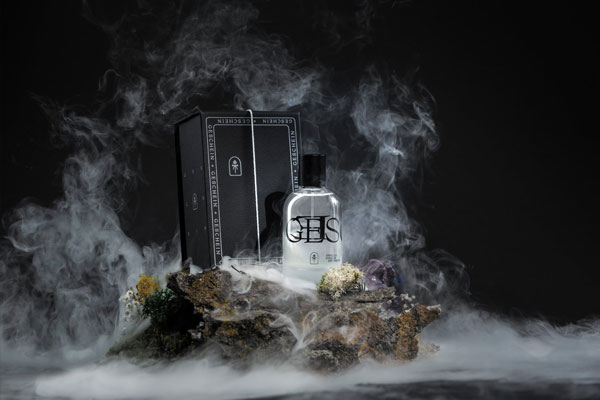 Magical experience
captured in a unisex perfume:
a night vineyard.
The founder of ANNO 1555, Werner Hauser, came up with this idea at a young age, when he smelled the hypnotic, fleeting scent of vine flowers during night walks. Since then, his desire has been to implement this enchanting scent into the concept of a perfume.
In 2018, he developed the GESCHEIN brand in collaboration with perfume expert Alex Lauber and the KR8 brand identity office in Vienna.
The scent itself was designed by perfumer Natalie Feisthauer in Paris. Natalie's roots in Alsace, her prestigious history in the international perfume industry and her many years of experience make GESCHEIN not only a perfume, but also a complex, modern fragrance experience.
In 2019, Nathalie Feisthauer won the "Perfume Oscar", the "Best Parfumeur 2019" and the "Best Niche Parfum 2019" at the Russian FIFI Awards.
Hypnotic scent of the GESCHEIN perfume.
von GESCHEIN.
Midsummer night's dream.
The scent of Geschein malt the landscape of the moonlight-flooded vineyard. GESCHEIN initially refreshes with sparkling tones of grapefruit and lychee, then adds a chord of volatile flowers, green maté and earthy agarwoods in the heart. Soft musky tones, cedar wood and cashmere accents form an elegant finish at its base.
HEAD
Bergamot, clary sage, grapefruit, ozone tone, fruit tone, lychee tone
HEART
Agarwoods, Cypriol Nagarmotha, saffron, rose, maté, vine flower
BASE
Cedar wood, oak moss, cashmere wood, patchouli, incense, copaiba balm, musk

A scent that smells
different on everyone.
GESCHEIN is a "niche perfume".
The niche perfumes can be found on the market outside the mainstream. These fragrances are offered in special perfumeries or in concept stores.
These special perfumes have more targeted concepts than the scents of the mainstream brands. At the same time, ingredients and compositions are often more complex and of better quality and fragrance concepts are more demanding and refined.
The ingredients in the GESCHEIN perfume respond to the body's own chemistry of those who use it. In this way, GESCHEIN develops into something special on each skin.